Junior/Middle School Curriculum
Cambridge International Examinations
Our Junior and Middle School students study the Cambridge International Primary and Secondary 1 curricula respectively. Cambridge Primary, typically for learners aged 5 to 11 years, gives schools a world-class curriculum to develop learner skills and understanding in English, mathematics and science. It enables teachers to assess children's learning as they progress.
Cambridge Secondary 1 develops skills and understanding in English, mathematics and science for the first three years of secondary education. It combines a world-class curriculum, high-quality support for teachers and integrated assessment.
At the end of 5th and 8th grade, students take the Cambridge Primary Check Point and the Cambridge Secondary Check Point tests respectively. The tests are exclusively available to schools that offer Cambridge Primary and are generally taken at the end of the final year of the programme. They are marked by Cambridge and provide schools with an international benchmark for learner performance. Each learner receives a statement of achievement and a diagnostic feedback report, giving schools invaluable information and parents extra trust in the feedback they receive.
Knowledge about Language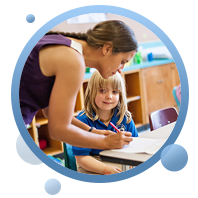 Our students are given the opportunity to:
Identify phonemes, letters and words which are similar to and different from English in spoken and written forms
Recognize commonly used rhyming sounds and learn how they are written
Understand and use a range of common words from all word classes, especially verbs
Recognize that languages use different writing systems, have different ways of expressing social relationships (politeness), borrow words from other languages and describe concepts and ideas differently
Apply their knowledge of language rules and conventions when building short sentences and texts, spoken and written
Understand and use question forms and negatives in spoken and written language
Understand that rules and conventions are respected by native speakers and are important for learners
Recognize some basic aspects of agreement where relevant, e.g. gender, singular/plural, pronoun/verb, adjectives
Recognize the importance and significance of intonation and punctuation
Language Learning Strategies
Students are given the opportunity to:
Discuss their language learning and try out different learning strategies
Plan and prepare for language learning activities, analyzing what they need in order to carry out a task
Use gesture and mime to show they understand and to help make themselves understood
 Identify techniques to develop pronunciation, e.g. observing native speakers, speaking aloud, making recordings
Improve their ability to memorize, using a range of strategies such as association with a physical response, word association, rhyme and rhythm and visualization
Identify techniques which assist understanding, e.g. looking at the face of the speaker, asking for repetition or clarification, listening for key words
Sort and categorize known words and investigate the characteristics of new language
Apply prior knowledge of language structure(s) when attempting to understand unknown language or to create new language
Use monolingual and bilingual dictionaries.
Junior/Middle School Spanish
At the beginning of the school year students are evaluated in order for the teachers to differentiate instruction and apply the methods that best fit the student's needs. The grammar, direct and audio-lingual methods are the ones most used in the classroom. The purpose of teaching the Spanish language in the Junior school is to develop students communication skills in the speaking and written language in the most natural way and through fun activities, including acting, storytelling, singing and playing.
Junior/Middle School Chinese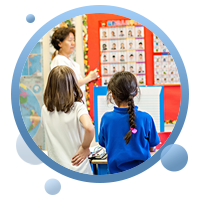 Our Junior School Chinese caters for students who are either new to the language or have had prior exposure to the Chinese language. We use differentiated instruction in teaching students so as to meet their individual levels and needs. We also use varied teaching methods and learning resources to make it a fun experience for our students.
Junior/Middle School German
Every day, as soon as the students enter the German class, their English disappears and they speak only German to the teacher and to each other. Suddenly they are in Little Germany, Little Austria or Little Switzerland. What happened here? Does IST have magical school doors? Maybe. But just in case magic is not enough, everybody in this class is eager to learn, explore and communicate. We have many wonderful German picture books to read aloud.
Junior/Middle School French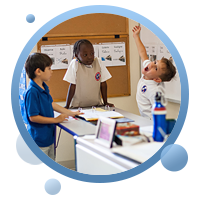 Help to develop knowledge of the French language using National books, practical classroom skills, question and answer periods, as well as video and audio tools.
I Encourage students to want to express themselves in a foreign language with native speakers, using methods that are proven, fun and confidence building.
Junior/Middle School English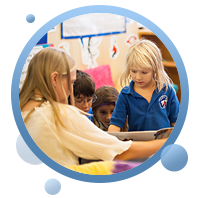 During Junior School English pupils learn to change the way they speak and write to suit different situations, purposes and audiences. They read a range of texts and respond to different layers of meaning in them. They explore the use of language in literary and non-literary texts and learn how language works.
Junior/Middle School Science
Science at International School of Tucson is designed to get young minds thinking scientifically. In today's society, in order to discover the why and how of things, we must develop the skills that allow understanding of the world around them (by deduction, experimentation, and application).The skills of using the scientific method, deductive reasoning, experimental procedure, organization, and time management, will be strongly utilized. No previous experience is needed, but a healthy sense of wonder is a definite plus.
Junior/Middle School Mathematics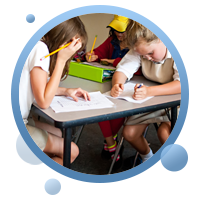 As early as first grade, students are presented with open-ended problems and expected to first tackle them without teacher assistance. They are asked to identify the strategies they employ in so doing and to find at least one other fruitful method for approaching them once they are successful. They are allowed to struggle. They are constantly asked to reflect on the strategies they employ and they are never told how they must solve any particular open-ended problem. It IS about discovery, and listening to one another. It is also about persistence and learning from each and every mistake.
Junior/Middle School Music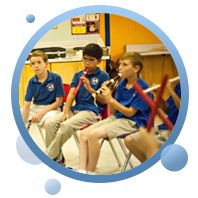 Studies have shown that students exposed to early childhood music education have higher test scores when it comes to verbal, visual-spatial, and numeracy skills than students that have had little or no such exposure. International School of Tucson aims to provide a well-rounded musical experience that not only enhances learning in all subjects but also provides an appreciation of other cultures.
Junior/Middle School Art & Physical Education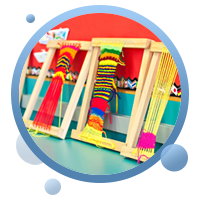 We Value the importance of Art and Physical education in the development of a child, and that is why we have allocated curriculum time specifically for these two areas. We have a specialized Art Studio for the art lessons and a gym, auditorium and carefully manicured field for the PE lessons.